" I don't know what other body shop to recommend to others except Marck Motors. I have used them a couple of times and my car has come out looking brand new. I have never had any complaints about the work they have done on any of my vehicles. They are very loyal to their customers as Customer Satisfaction is their main concern. I have used other body shops in the past years, however the work did not even compare to the work that Marck Motors did. I would recommend this body shop to anyone and everyone I know that need repair on their vehicles."

K Koryta

"I have used these guys twice and could not recommend them higher. Honest and always willing to go the extra mile."

Randy

"I have used Marck Motors twice and they did a wonderful job on my car. Chris went out of his way to make sure I was happy. They even did some things I hadn't asked them to do at no additional cost. I would recommend them to anyone."

Jeff W
Marck Motors Body Shop is the epitome of professionalism, craftsmanship, and good old fashioned kindness. There are very few companies, regardless of the industry, that provided the sincerity, consideration, efficiency, professionalism, workmanship, service, and generosity of heart that Marck Motor has provided. I have been a corporate/business trainer for decades and lectured around the country teaching the exact principles Mark Motors inherently lives and provides daily.
When one is need of a body shop, one has already been in a difficult (if not traumatic) situation. As soon as I walked into Marck Motors,I was received with genuine kindness and understanding (by EACH staff member), and that was a great comfort to me.
I look for integrity whenever I'm working with someone, and Marck Motors is congruent with their professional presentation inside and out. Their words match their actions. The staff is helpful, patient, and respectful of my time, and they went out of their way to ensure not only my peace of mind, but my convenience and comfort, as well.
Lastly, I have to mention one last thing - the grounds are immaculate - not something I expected in a body shop! I was offered a tour of the premises and immediately noticed how clean and organized the establishment was. The corners of every building was swept (even in the heavy equipment area) and every item of inventory was organized and kept neatly and in an uniform manner. This kind of attention to detail told me a lot about this company - it really cares - from beginning to end, inside and out.
In short, everything about Marck Motor Body Shop is outstanding. From the initial greeting, to the arrangement of my rental car, to the final pick up of my car (which was carefully washed and cleaned). Each step of the process was exceptional and I would highly recommend anyone and everyone to use Marck Motors Body Shop - even if it's a bit of a drive. I drove over 40 miles each way because I knew I would receive the best in service and craftsmanship, and that's exactly what they provided. If you want to be "WOW'd", go to Marck Motors Body Shop!!!
M.K. Encinitas, California.

M.K. Encinitas, California
About Marck Motors
At Marck Motors Body Shop, we care about your vehicle and how it looks.
When your vehicle gets a small dent or is in a major accident you can rest assured that we will take care of your vehicle and get it back into tip top shape. This means we work with your insurance carrier and in many cases the vehicle manufacturer to insure that your vehicle meets factory standards.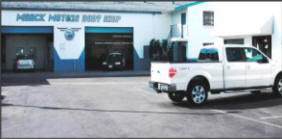 Providing Automotive Body and Paint repairs since 1948.
When it comes to performing automotive body and paint repairs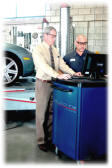 we stand alone! Our direct computer links with insurance companies allow us in many cases to administrate your claim, speeding up the repair process.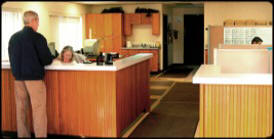 At Marck Motors we have gone GREEN.
Doing things that are good for the environment is something we should all pitch in and help out with. At Marck Motors we are doing our part in helping to recycle and reduce waste.
* Reconditioning of aluminum wheels, steel bumpers & plastic headlights helps preserve our planet's natural resources.
*Painless dent repairs aid in limiting paint and solvent usage.

*Recycling of un-repairable automotive aluminum and steel parts reduces waste and landfill growth.

*

DuPont water borne paint is the latest in environmentally friendly refinishing technology.

.